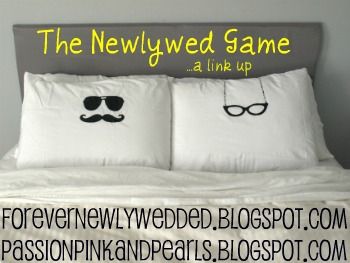 May 31, 2013
•
love
This week, I made the mistake of trying to discuss the questions with Sean. When it came time to put the answers into the blog, I got short form answers. Sorry.
Hopefully next week will be the best ever since it is sadly the last. :(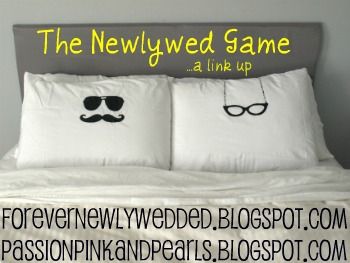 1.

Would your spouse rather be blind or deaf? Bekah

–Probably deaf. He'd be mad if he couldn't drive or enjoy all his video games.

Sean

– She's already both, so I can't tell.

2.

Who wears the pants?? Bekah

– Neither of us are terribly authoritative. We do what we do.

Sean

– She does, because she organizes everything.


3.

What do you think was your spouse's best subject in school? Bekah

– In high school, History and English probably…in college, beach-ology.

Sean

– Dancing.

Bekah

– I took dance classes in community college (ballet/ballroom), but not in regular school. I did enjoy them but I'm no dancer. Too late for me. :/


4.

Is there any significance to your spouse's name? Were they named after anyone? Bekah

– Sean Connery! His mama may or may not have had a crush...

Sean

– Not named after anyone, but Rebecca is biblical. Her mom wanted it spelled Rebekah which is of course what Bekah uses now.

5.

What quality does your spouse have that you hope your future children will inherit? Bekah

– His smile and outgoing-ness.

Sean

– Height and intelligence.

6.

What musical artist do you listen to that your spouse hates? Bekah

– He hates most of what I listen to, but especially the few country artists I enjoy –Sugarland, Carrie Underwood, The Wreckers, etc.

Sean

– It might be Jimi Hendrix.

Bekah

– It's usually not that I dislike an artist. He just plays a CD in the car until I can't take it anymore, then he keeps going. The more appropriate answer would be all his NPR talk radio, but that isn't a musical artist.

7.

What do you both want to do when you retire? Bekah

– 3 years into marriage, we have minimal savings, no active retirement accounts, and what feels like no possibility of even getting a house. Maryland is so expensive! So honestly we haven't even thought much of retirement. Now I'm depressed. Thanks.

Sean

– Move to a warm location. (can't we just do that now? seriously!)
Jamaica is calling our names. We can move any time...

8.

What is your favorite tradition that you share together? Or maybe one that you both started together when you got married? Bekah

– I assume he would say "the shirt" again, though that is more for him. The closest thing we have to a tradition together (up until this year) would be

AT Days. Sean

– Trail Days and the shirt.
9.

What is your spouse's favorite app on ther smart phone (if they have one)? Bekah

– Scramble with Friends.

Sean

- iFunny.

10.

Have you & your spouse dressed up for Halloween together? If so, what was your favorite costume?

Bekah – We're too cheap to buy costumes so we work with what we have. One year we dressed up as Mormons together for a church Halloween party. It's a Baptist church, so I thought we were quite clever.

Sean – Yep. Mormons.