Day five of twelve
I can't remember when I last believed in you. I don't even remember when I stopped. Nobody told me; I just knew. My parents still went through the motions of leaving cookies for you. One year, I wanted to be "Santa" and eat the cookies at night. Of course, I slept through the night and the cookies were still there in the morning. Good thing we were all old enough that nobody's dreams were shattered.
In "Miracle on 34th Street," the girl asks you for three things: a dad, a house, and a baby brother. That's quite an adult list compared to the barbies I was happy with at her age. But, alas, I'm officially an adult and as such, I so understand her requests.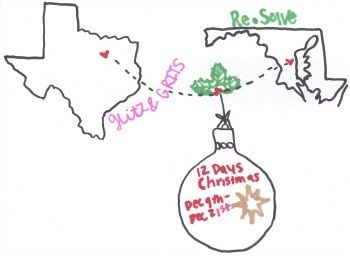 Gone are the days when a new toy or gadget under the tree brings enthusiasm. I have a dad and a baby brother, but oh, how I want that house. I want a puppy (or five) to join Sean and I inside of it. I want for just the two of us to get away together. I want our cars not to need repairs and our country to get lots of repairs. I want to stop this job game and have a career. I want to have the means to help anyone, anytime it's needed. Being on the helping end is so much easier than being on the needing (and sometimes receiving) end.
But, when I ask for, hope for these things, it's just an ache I get when I know the chance of these are slim to none, so here come the trivial items just to have something under the tree: how about a cute wristlet that fits my phone AND doesn't break in a matter of weeks? I've been looking all year! And of course, there's always the gift of
Arbonne
; I'm still coveting our spray vitamin D and Pure Vibrance haircare!
What would you like Santa to bring you this year? Share your letters below!