It's past 8 pm and I'm finally blogging. Better late than never I suppose.
Today was my first day back at work. I'm grateful to have such supportive colleagues. I work a split shift most days, and after the first half, they could see I was wiped and let me go home and sleep the rest of the day. (Seriously, I was told I was pale. Seeing as how I'm already as white as they come and wear the lightest shade of foundation....to point out that I'm pale is cause for concern).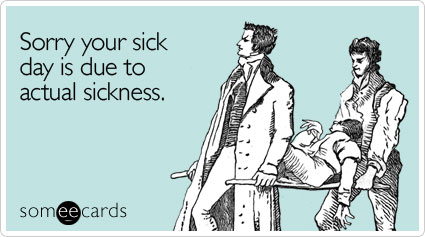 pretty much. via
This recovery was and has been strange compared to last year's surgery. Last year I felt like crap and barely moved for a week straight. Then one day, it was like "hey, I can stand up for more than two minutes!"
Not so much this time.
This time it went something like this:
Thursday:
Wake up from surgery. want to die.
Friday
: Sleep into the evening. wake up. decide I feel great. Make myself dinner. Realize I'm getting dizzy and should quit while I'm ahead. Go to sleep.
Saturday
: Why did I cook dinner? I feel like I've been hit by a truck. Why didn't I fill that nausea prescription? Oh, cuz last year I didn't need it so I didn't bother this year. Sean, please go get it now!
Sunday
: Still feel like I got hit by a truck.
Monday
: This isn't so bad, maybe I'll recover quicker and go back to work early.
Tuesday
: Ha, why did I say that? I feel like I felt on Saturday.
And so it went all throughout the week. Saturday and Sunday Sean & I ventured into public a little bit to test my tolerance before my return to work. Both days ended with headaches, but it could have been worse.
Really. I could have had a less sympathetic job and worked until I passed out. I could have reported to jury duty (seriously, I was summoned beginning today and they denied my request for an excuse. Wouldn't even look at the doctor's note that said
Hey, I just cut this chick's ear off and she can't hear. Bad idea!).
Thankfully it was postponed last minute til next Monday. It's still a nuisance, but hopefully I'll be in better shape by then.
I also could have had a crappy hubby who acts like this:
I don't, of course. My husband rocks. He's definitely good company when I feel like crap. He even helps unload the dishwasher. Hmm...maybe I should have surgery more often.
PS - For those who don't know me,
here
is a resource on what I've been dealing with hence the surgeries.