This week I had the pleasure of joining up with Michelle of
Little Homes and Big Hearts
as a co-host for her weekly "lots of love" link-up! I encourage you all to check her blog and some other bloggers out over the weekend!
...And speaking of link-ups, it's Friday! Time for some more newlywed fun courtesy of Forever Newly Wedded!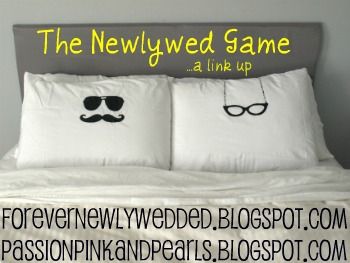 So this week, I answered the questions in a word document and then had to go to work. I left the document open. Sean is rarely online, so I was surprised when I came home and he said "I answered all the questions!"
Lesson learned for me: let him type them in on his own lonely time instead of interrupting him when he wants to watch TV. It was so fun to read these when he'd taken the time to think them out,and we had so much more fun discussing them!
Sorry for the lack of pics this week...not that I had much to go with these anyway, but it was another hectic week. We may venture into doing this as a vlog next time.
1. Which does your spouse prefer: Summer or Winter Olympics?
Bekah
: Summer because he's a volleyball freak!
It may have something to do with these ladies...especially the one who shares our last name! via

Sean

: Summer, anything winter saddens her. (so true, though I did enjoy the figure skating a lot when I was younger!)

2. What advice would you give your 16 year old self, now with the knowledge that you have found and married "the one?"
Bekah:

I don't believe in "the one." That being said, if I changed anything, I may have not ended up with or even meeting Sean, so I'm good.

Sean:

I don't think anything. I didn't screw anything up personally that I can think of. But what she said, everything happened and led to us meeting/dating/marrying.


3. What expectations did you have going into marriage? How have they changed?
Bekah:

We went through pre-marital counseling (everyone should do this) and the biggest piece of advice (aside from including Christ in the marriage) was how dangerous expectations can be. It sets you up for disappointment, so keep them at bay.

Sean:

That I'll be happier because Bekah would be closer. No change. :)


3.

When engaged, what did your spouse most look forward to about being married?
Bekah

: Probably permanently living together. We dated long distance the first three years then I transferred to school near him and stayed on campus.

Sean:

Living together, keeping her warm on cold nights (PG intended, mostly), and a puppy (unfortunately yet to happen).


4.

What is your spouse's favorite meal that you prepare?
Bekah:

I have asked him this in the past and he can never pick a favorite. He claims he is just happy that I cook for him.

Sean:

Tomato sandwich. And she just informs me she NEVER remembers me making one for her. So I guess she will never have that honor again!

5.

What is your spouse's favorite form of exercise?
Bekah:

censored! Also volleyball.

Sean:

Yoga.

6.

What sport would your spouse most prefer to actually participate in?
Bekah:

Volleyball. Wow. I've worked that in three times so far tonight. He plays and coaches, FYI. It used to

really

be nuts.

Sean:

Dressage, synchronized swimming or diving or golf (jk, not "sports"). Probably (bedroom) wrestling. (wow...I guess we got over the whole "censored" thing. Seriously though, I'm a performing arts geek, not an athlete!)

7.

What is the strangest food your spouse has ever eaten?
Bekah

: He likes really spicy foods and tries more than I do, but I wouldn't classify any of it as strange.

Sean:

Unfortunately it quite possibly may be beer. I'm a craft beer fanatic and in the past desperately I tried to find a beer she may like. I still do if it's something I love or if I think she may find it tolerable (still She's had only what I can count on one hand what she may find "drinkable" for a very short amount of time. The faces she makes on most of them are precious though (special segment coming soon?!).

8.

Is your spouse a country gal/boy or a city slicker?
Bekah:

Ha! Neither. We're both suburban-ites. If we had to choose though, it would likely be country.

Sean

: She fares well as both part-time, but more so country leaning (Appalachian Trail days type location).

10. Who is the "handyman" in your home? You or your spouse?
Bekah:

Depends on what we're working on. He is always cleaning bunny hair/hay out of the vacuum so it actually works, but I do most other things. When we moved in, I hung the curtains, pictures, etc.

Sean:

I am if it's fixing or figuring out something physical.

...and there you have it! We are away for the weekend (my first Saturday off since my surgery last July!) hope you all enjoy your weekend as well!